---
---
Instruments
---
---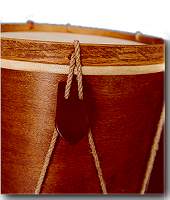 TABORS
Historical Tabors
There are no surviving tabors from before modern times. Based on pictorial evidence, it is clear that since the beginning of the 16th century (perhaps earlier) the construction and dimensions of the tabor have not altered much, if at all.
Historically, the tabor was often played together with a type of recorder called the pipe. The pipe was played with one hand (there are tone holes only for two fingers and a thumb) and the tabor with the other. See illustrations in both this article, and in "Today's Tabors"
The origins of pipe-and-tabor playing are still unclear, although an early concentration of activity was in the western Mediterannean (France, Spain, Balearic Islands), where it survives to the present day as a continuous, living tradition. The earliest depiction of a pipe-and-tabor player of which I am aware is a wall relief of the Oliva monastery in Navarre (present-day Spain) dating from the 12th century.
Throughout the 12th-15th centuries the tabor is encountered almost exclusively with the accompanying pipe. It was relatively small, with the shell being perhaps 3-6" high and 8-10" diameter.
The year 1511 saw the first printed book dealing with musical instruments and their usage. Of the several such publications which appeared over the succeeding 125 years, four have provided the the basic designs of tabors offered by Harms Historical Percussion.
---
Virdung

Sebastian Virdung's Musica Getutscht (Basel, 1511) shows two drums. The one at the left is the tabor, which he says "is used by the Dutch and the French together with the pipe, especially for dancing or for weddings". The drum at the right is of the military type used together with the fife. (The HHP Virdung tabor measures 8"x8", or 18cmx18cm.)

---

Praetorius


Syntagma Musicum, vol. II (Wolffenbüttel, 1619) by Michael Praetorius shows a tabor and two sizes of pipe. About these instruments he says that the pipe"...is played by many Englishmen with the left hand, to which they add the accompaniment of a small little drum". In his typically thorough way, Praetorius even depicts the single drumstick which is used to play the drum. The measurements shown by Praetorius - difficult to determine (it consists of a ruler at the bottom of the page indicating a scale based on the measurements in use in the court of Brunswick) - indicate a height of 4-5inches and diameter of 10-11 inches. (The HHP Praetorius/English Country Tabor measures 4 1/2" by 10", or 10cmx22cm.)

---

Arbeau


Orchesography (Langres,1589), the famous dance and military tutor by Thoinot Arbeau, prints the earliest drum music of any kind. The tabor music is straight-forward, playable with just one stick, while the military drum music requires an accomplished player using two sticks The tabor appears to be close in size the to today's Basque tabor. (The HHP Arbeau/Basque Tabor measures 10"x10", or 22cmx22cm.)

---

Mersenne (tambourin provençale)

Marin Mersenne's Harmonie Universal (Paris,1636) shows this detailed sketch of an instrument "which is used in Provençe". Elsewhere he shows the pipe, gives a fingering chart for it, and praises the playing of "Jean Price Anglois". (The HHP tambourin provençale measures 24"x14", or 60cmx35cm.)
---