ABOUT HARMS HISTORICAL PERCUSSION
Harms Historical Percussion was started in 1989 by Ben Harms (see biography below) with the goal of providing high-quality "historically informed" instruments to the early music field at a reasonable cost. It turned out that many of the "historical" instruments (e.g., the tabors and hand drums) have changed so little over the past 500 years that they are just as suitable for modern folk musicians and "classical" percussionists.
All Harms Historical Percussion instruments are "membranophones" - that is, they have skins. Other percussion instruments such as bells, chimes, finger cymbals, wood blocks, etc., are not available.
Harms Historical Percussion is still today as it began -- as a one-person shop. Ben Harms creates all the designs and specifications, and does all the shop work. Harms Historical Percussion ships instruments internationally and those instruments can now be found on all continents.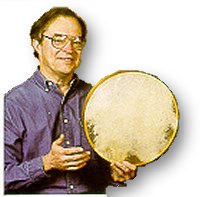 ---
Ben Harms studied at University of Cincinnati (liberal arts major), Curtis Institute (percussion performance with Fred Hinger), and City University of New York (musicology). His performing career as a percussionist has ranged from playing medieval, renaissance, and baroque music with prominent early music groups including Calliope, premiering works of the composers Steve Reich, Olivier Messaien and others, to the Metropolitan Opera Orchestra (since 1968).
Along the way he has played in venues as varied as Cincinnati's Gaiety Burlesque House (1962-1963), the Hamburg Staatsoper, St. Patrick's Cathedral, every major concert hall in New York City and most other concert halls on the East Coast. A short list of additional credits includes Leningrad Philharmonic's United States tour (1976), Canadian Brass, Bill Ochs' pennywhistle tutor, numerous television and film soundtracks, and folk and classical chamber ensembles. Recording credits include performances on all major labels.
In addition to playing the standard western percussion instruments from the medieval period to the present, Mr. Harms has studied Arabic music and hand drumming and North Indian tabla playing. He held a one-year Fulbright fellowship in musicology at Hamburg, Germany.
As a member of Calliope, Mr. Harms has developed and maintained skills on other instrument families. He has performed as a recorder player in two Metropolitan Opera productions and plays viola da gamba in annual performances of Bach's Brandenburg Concertos presented by the Berkshire Bach Society.